Awesomed

 because Penang food is amazing!

*Non-Halal*
Penang food is known internationally as one of the best in the world, hands down. There's good reason for that because we have a wide and tasty selection of food.
Now, we know many tourists and locals alike can be easily overwhelmed by the Penang food we have so we've gone ahead and prepared a 24-hour Penang food guide for you! All the way from breakfast in Penang early in the morning to a rich spread of Penang dinner at night, we'll give you some of the best available. Here we go!
*Please note that this is not a purely hawker food guide, we'll include some interesting Penang food restaurant outlets as well! This is also purely of our personal opinion.
This is Part 1 of the 24-hour food guide which covers Early Morning Breakfast in Penang, Breakfast, Lunch in Penang. Check out here for Part 2 which covers Tea Time, Dinner in Penang and Supper soon!
Early Morning Breakfast in Penang (Available from 7am onwards)
1. Dim Sum Food Restaurant – The Cheapest Dim Sum Outlet in Town!

What's next is our Penangnite's favorite Sunday breakfast in Penang choice with our families, dim sum! Being a avid lover of dim sum, I've visited many dim sum outlets before and normally find myself either disappointed with the taste or shocked by the price. Well, give this place a shot, you'll definitely come to enjoy it, I know I did.
You can find this Dim Sum and many other great food in our "7 Awesome Breakfast in Penang Hot Spots"!
If you're interested in the place, here's where to find it (including navigation by Google Maps) "Cheapest Dim Sum Outlet in Penang"
2. Oh Lay Ee! Oh Lay Ee! Oh Lay Ee Hokkien Mee!
If you're an exercise enthusiast that gets up in the wee hours of the morning, a person on his way to a very early morning work shift or just looking for good breakfast in Penang, this is for you. Operating as early as 5a.m. in the morning, it's definitely worth your buck. Not only does it serve you our Penang famous and unique Hokkien Prawn Mee, you can also add-on other ingredients to make your breakfast in Penang an awesome one!
Oh Lay Ee was even featured in our "7 Awesome Breakfast in Penang Hot Spots"!
Here's where to find Oh Lay Ee!
Breakfast in Penang (Recommended from 8am – 11am)
3. Kim Leng Loh Mee – A Favorite of Penang Breakfast
Hokkien Mee, Loh Mee and Curry Mee are the most notable and liked soupy dishes in Penang's food directory. Good thing is that finding a good bowl of Loh Mee in Penang is not a hard task, but finding a really amazing one is a different story!
Kim Leng Loh Mee is a Loh Mee that will not let you down if you have a rumbling tummy for good Penang breakfast. Cooked with pork rib stock, 5 flavors of spice and starched with egg white, this is delicious goodness at its best. Recently, Kim Leng Loh Mee has begun to win over many taste buds with it being covered in the "Hungry – Food Show" by Ah Xian The Celebrity TV Host.
Kim Leng Loh Mee's reputation and taste even earned its way into our "Top 10 Must-Try Not So Famous Penang Food"
You can read more about "Kim Leng Loh Mee" and its location HERE.
4. Delima Emas Coffee Shop Wan Tan Mee – Sells Out Incredibly Fast!
You know a food is good when it sells out before 11.30am that's exactly how popular this Wan Tan Mee is for breakfast in Penang! Wan Tan Mee is often regarded as one of the staple Penang food, since its easily found almost anywhere.
In Penang, Wan Tan Mee is available in both soupy and dry forms, making it suitable for both young and old, healthy or sick alike. Delima Emas's Wan Tan Mee was previously awarded the "Top 10 Penang Famous Award", proving that its reputation is well-earned.
The noodles itself is weak on the presentation side but makes up for it with amazingly springy noodles and flavorful dumplings! The mixture of gravy works perfectly by bringing out the tastiness of the dumpling and the noodle.
5. Bangkok Lane Mee Goreng & Mee Rebus, Seng Lee Cafe – The Legendary Indian Noodle
Mee Goreng & Mee Rebus can be found anywhere in Penang but hunting for an awesome one can be quite the adventure. First up on the list is an awesome one that is a favourite Penang breakfast of the AwesomePenang team, Bangkok Lane's store.
You know, we have a saying about Penang food: if a stall's food doesn't taste good, it'll be gone in 3 years. This Mee Goreng store has been here for 80 years (that dates back to the 1930's!), so what do you think?
It's legendary status earns it a place in our "Top 10 Must Try Not-So-Famous Penang Food"
Thinking of paying a visit to Bangkok Lane Mee Goreng Stall ? HERE's where to find it!
6. 7 Village Noodle House – Finally Making its Way to the Island!
7 Village Noodle House is popular in the mainland but has yet to create a reputation for itself in Penang island scene. Well, this all changes with its opening for lunch in Penang with an outlet at Abu Siti Lane.
7 Village's most popular dish is also a staple of lunch in Penang, Koay Teow Th'ng. Their soup base is prepared using pig bones which makes the broth savory. The smooth and silky Koay Teow flat noodles, added with meat slices, chicken strips, fish balls and special recipe minced pork just makes it a perfect combination. Another must-try at the outlet is also their Ramen, let us know which you think is better!

Lunch in Penang (Recommended from 12pm – 3pm)
7. Hot Bowl Curry Mee – Curry & Chicken Combo at its Finest!
You can find good Curry Mee for lunch in Penang very easily but one that goes great with its signature brand of deboned chicken? None. Hot Bowl White Curry Mee has made a name for itself  for its signature white Curry Mee which gets its flavor from the rich coconut milk fragrance.
However, the new superstar here is definitely the Deboned Chicken with Soy Sauce! The tender and smooth chicken tastes great with their unique soy sauce which is a nice blend of sweet and salty. You can opt to take it with the Curry Mee or with a plate of their specially prepared oil rice. It's a popular Penang lunch spot among Penangnites!
It's fast making its name as one of Penang food's must tries, earning a spot in our list of "Top 10 Must-Try Food Penang Food in Georgetown"
Learn more about Hot Bowl Curry Mee [and the awesome Pek Zham Key (boiled chicken with soy sauce) ].
8. Cheap and Tasty Thai Food – A rare find in a Food Court

Wait wait, before you go all nuts on us, hear us out. It's true that most of Penang's great food are found on the streets of Penang but this incredible little gem is found none other than in Tesco Hypermarket and trust us on this one, it is really amazing. If you're bored of the usual, why not try giving this Thai outlet a shot for a lunch in Penang?
Little Thai serves authentic Thai food, evident because the people managing are all from Thailand with little to no understanding of local dialect. Best part of it all is that it's cheap as well, ranging from RM4- RM7! This little gem is definitely one worth trying out for a simple lunch in Penang, let us know what you think of it in the comments below!

9. Fried Jawa Mee – A New Twist on an Old Recipe 
Surely you've had Jawa Mee sometime in your life if you're a Penangnite, while not the most popular Penang food, there are still amazing ones to be found!
Selera Slim is a food court that is hard to spot because it's surrounded by flats and condos, but take some time to find your way around and your patience will be well rewarded. This Jawa Mee stall sells 2 types of Jawa Noodles, fried and soupy. While the soupy version is nothing special, the fried one stands out as one of the best in Penang! It's so attractive that it's difficult to find a table during lunch in Penang, people are just flocking over for it!
10. I Mum-Mum Pan Mee – One of the Best Pan Mee Around
Now now, I know that Pan Mee is not a Penang food specialty or staple, after all it didn't even originate from Penang. But we still have some stalls here who sell excellent Pan Mee that should not go unnoticed, I Mum-Mum Pan Mee is one of them that you must visit for lunch in Penang!
Their specialty is the Crispy Pork Pan Mee, which on top of your choice of noodles, comes with crispy and fresh pork slices. They are garnished in delightful sweet and sour sauce which makes the entire dish taste just heavenly. Definitely a must-try!
I Mum Mum Pan Mee is now available in Golden Triangle Condominium Relau, too!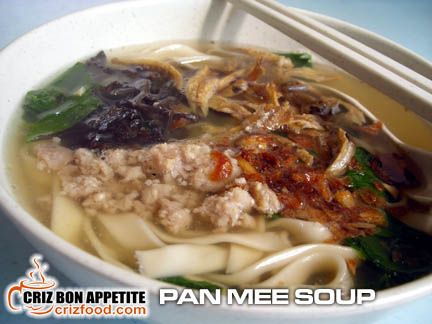 11. Ong Cheng Huat Seafood – Penang Seafood at its Finest
Now, one from the mainland! Ong Cheng Huat Seafood is a common Penang lunch hangout for the mainlanders and islanders alike, who've known this place for as long as I can remember.
Ong Cheng Huat Seafood although famous for its Seafood, is also very well-known for its Barbequed Chick which earns rave reviews all over the blogger-sphere. We've included more photos so that we can let them do all the talking. After all, a picture is worth a thousand words. *wink*
Ong Cheng Huat is one of the high rankers in our list of "Top 10 Must-Try Not So Famous Penang Food"
Where to find it? Click HERE to use our new explore tool to pinpoint its location with Google Maps. 

And that's it for Part 1! Stay tuned and check out  for Part 2 which covers Tea Time, Dinner in Penang and Supper!